Chocolate Fudge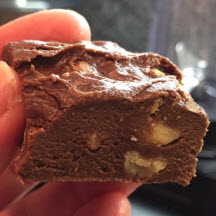 An excellent, no-fail version of chocolate fudge that sets up every time—and don't eliminate the step of toasting the nuts because it's worth the incredible flavor and crunch when combined with this creamy, chocolate marshmallow fudge.
Recipe Ingredients:
1 cup chopped nuts (pecans or walnuts), toasted
4 cups granulated sugar
6 ounces miniature marshmallows (about 2 1/2 cups)
1 (12-ounce) can evaporated milk
1/2 cup butter
2 (12-ounce) packages semisweet chocolate chips ( or 4 cups)
1 tablespoon vanilla extract
1/2 cup semisweet chocolate chips for drizzle (optional)
Cooking Directions:
To toast walnuts: Place walnuts on a baking sheet and toast in a preheated 300°F (150°C) oven for about 5 to 10 minutes, stirring frequently to avoid scorching. Watch closely, as the nuts may be golden one minute then turn dark brown the next. Set aside.
Line a 13x9x2-inch baking pan with lightly buttered aluminum foil. Set aside.
In large (4-quart or larger) saucepan combine sugar, marshmallows, evaporated milk and butter and bring to a boil over medium heat, stirring constantly, until mixture comes to a full boil. Continue cooking, stirring constantly, for 5 minutes or until candy thermometer reaches 236°F / 110°C, (a small amount dropped in cold water should form a soft ball that flattens when removed from water); quickly remove from heat, stirring so mixture will not scorch.
Immediately add the chocolate chips, vanilla extract and toasted walnuts, stirring until chocolate chips are melted and ingredients are well-mixed. Immediately turn into prepared pan.
For Chocolate Drizzle: Place 1/2 cup chocolate chips in small plastic zipper bag and microwave on HIGH for 30 seconds; remove and squeeze bag to stir chips around and then microwave an additional 30 to 40 seconds or until chocolate is melted. (Be careful, chocolate will burn easily if microwaved too long.) Snip a very tiny end off a corner of the bag and decoratively drizzle melted chocolate back and forth across the fudge.
Allow fudge to set at room temperature until firm. Using sides of aluminum foil, carefully lift fudge out of pan and cut into 1-inch squares.
Makes 117 (1-inch) squares.
Nutritional Information Per Serving (1 square): 80.1 calories; 37% calories from fat; 3.6g total fat; 3.0mg cholesterol; 10.9mg sodium; 14.2mg potassium; 12.6g carbohydrates; 0.5g fiber; 7.7g sugar; 12.1g net carbs; 0.6g protein.
Recipe and photograph by Hope Pryor; copyright © 1999; property of CooksRecipes.com. See Terms of Use.