Coconutty Caramel Candies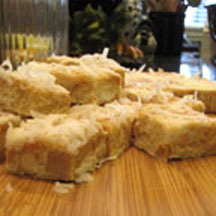 The hardest part about making this scrumptious 'homemade' candy is unwrapping the soft caramels. A great candy for gifting—if they last that long!
Recipe Ingredients:
25 caramel candies, unwrapped
3/4 cup, plus 3 tablespoons sweetened flaked coconut - divided use
1/2 cup white chocolate chips
1/2 cup dry roasted peanuts
Cooking Directions:
Line an 8x4-inch loaf pan with foil* and grease well with butter.
In a 4 cup-glass measure, or microwave-safe mixing bowl, combine the unwrapped caramels, 3/4 cup coconut, chocolate chips and peanuts. Microwave on HIGH for 1 minute. Stir. Microwave an addition 30 to 60 seconds, until caramels are softened. (Careful, don't overdo it, the caramels should only "soften" so they will combine with the other ingredients, yet still be distinguishable from the white chocolate.)
Press candy mixture evenly into prepared pan (use a piece of plastic wrap to make pressing the mixture easier).
Sprinkle the remaining three tablespoons coconut on top, pressing slightly into candy. Cool at room temperature until set, about 30 to 40 minutes.
Remove candy from pan and peel off foil. Cut into 1-inch squares. Store in an airtight container.
Makes 32 (1-inch) squares. (Do not double this recipe, make candy in individual batches.)
*Do not use waxed paper for lining the pan, as the mixture is too hot and the wax on the paper will melt onto the candy, causing the paper to adhere to it when it cools.
Tip: For gift-giving or presentation, wrap candies individually in small squares of waxed paper, twisting the open ends on each side in the opposite direction to seal, such as how saltwater taffy is wrapped.
Nutritional Information Per Serving (1 square): 70.2 calories; 41% calories from fat; 3.5g total fat; 0.6mg cholesterol; 20.3mg sodium; 52.0mg potassium; 9.7g carbohydrates; 0.6g fiber; 5.3g sugar; 9.1g net carbs; 1.1g protein.
Recipe and photograph by Hope Cantil; copyright © 1999; property of CooksRecipes.com. See Terms of Use.