Pumpkin Marshmallow & Spice Fudge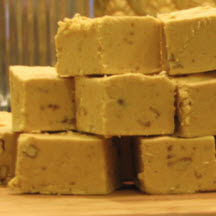 This pumpkin marshmallow fudge, perfectly seasoned with pumpkin pie spice, is wonderful for fall and winter holiday entertaining and gift-giving.
Recipe Ingredients:
2 cups granulated sugar
1 cup light brown sugar, firmly packed
2 teaspoons pumpkin pie spice
3/4 cup butter (1 1/2 sticks)
2/3 cup heavy or whipping cream*
1/2 cup pumpkin purée
1 (12-ounce) package quality white chocolate chips** (Do not use imitation)
1 (7-ounce) jar marshmallow creme
1 cup coarsely chopped pecans, toasted or untoasted as desired (optional)
2 teaspoons vanilla extract
Cooking Directions:
Using foil, line a 13x9x2-inch baking pan; set aside. (There is no need to grease the foil.)
In heavy 4-quart saucepan, mix together both sugars and pumpkin spice; add the cream, pumpkin purée, stirring until combine; then add the butter and cook over medium heat, stirring constantly, until mixture comes to full rolling boil; continue cooking, without stirring, for 7 minutes.
Remove from heat and quickly stir in the white chocolate chips, marshmallow creme, pecans (if using) and vanilla extract, stirring until the chips and marshmallow creme are completely melted.
Immediately pour into the foil-lined pan and spread quickly.
Let stand at room temperature until completely cooled and firm, about 2 to 3 hours.
Lift fudge from pan, carefully remove the foil and cut into 1-inch squares.
Makes about 3 pounds or 48 (1-inch) servings.
*Or substitute with 2/3 cup evaporated milk, half-and-half (light cream) or simply use whole or 2% milk, the fudge will be a little less creamy, even so, it is more than likely no one will be the wiser, but you.
**I use (and prefer) NESTLÉ® TOLL HOUSE® Premier White Morsels. I have used another popular "brand name" of white chocolate chips and was disappointed not only by the inferior taste AND texture, but I had to resort to the use an electric mixer in a vain attempt to coax the chips to melt completely....an attempt that did not succeed "completely". Happily the fudge was still pretty good, however, it would have been much better had a local grocery store not been out of my favorite brand.
***Do not allow the bulb of the candy thermometer to rest on the bottom of saucepan.
Nutritional Information Per Serving (1/48 of recipe): 155.9 calories; 42% calories from fat; 7.9g total fat; 9.9mg cholesterol; 33.4mg sodium; 67.7mg potassium; 22.6g carbohydrates; 0.9g fiber; 14.8g sugar; 21.8g net carbs; 0.7g protein.
Recipe and photograph by Hope Cantil; copyright © 1999; property of CooksRecipes.com. See Terms of Use.