Super, No Fail Caramel Corn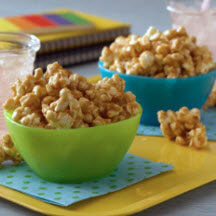 It really works! This no-fail recipe is the real deal, genuine caramel-coated popcorn made fast and easy!
Recipe Ingredients:
3 quarts popped popcorn
1 cup packed brown sugar
1/2 cup butter (1 stick), diced
1/4 cup light corn syrup
1/2 teaspoon salt
1/2 teaspoon baking soda
Cooking Directions:
Place popcorn in a large bowl; remove any unpopped kernels.
Spray a large baking sheet with cooking spray; set aside.
In a large, deep pot, stir together brown sugar, butter, corn syrup and salt over medium heat until well blended. Increase heat and bring to a rolling boil. Boil for 5 minutes WITHOUT STIRRING.
Remove pan from heat and stir in baking soda (mixture will foam), mixing well. Working quickly, stir popcorn into hot mixture, stirring until completely coated.
Quickly spread out onto prepared baking sheet and allow to cool and break into smaller pieces.
Serve immediately or store in an airtight container.
Makes about 2 1/2 quarts.
Recipe and photograph provided courtesy of The Popcorn Board.