Apple Arbor Chicken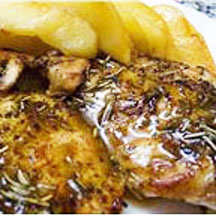 Crispy-fried chicken served with a creamy, spiced apple and onion sauce.
Recipe Ingredients:
5 tablespoons butter - divided use
1 large red onion, thinly sliced
2 large Red Delicious apples, peeled, cored and sliced
1/4 cup apple cider
3 tablespoons chopped fresh cilantro
2 teaspoons packed brown sugar
1 teaspoon ground cinnamon
1/2 teaspoon salt
1/2 teaspoon ground allspice
1/4 teaspoon ground cloves
1/4 teaspoon nutmeg
2 whole broiler-fryer chicken breasts, halved, skinned and boned
3 tablespoons milk
1/2 cup all-purpose flour
1/4 cup half-and-half cream
Red apple wedges for garnish
Cilantro sprigs for garnish
Cooking Directions:
In electric or other fry-pan, place 3 tablespoons of butter and melt over medium heat. Add onion and cook about 2 minutes or until soft. Stir in apples, cider, cilantro, brown sugar, cinnamon, salt, allspice, cloves and nutmeg. Cook about 8 minutes or until apples are tender. Remove apple mixture from fry-pan, set aside and keep warm.
Moisten chicken with milk. In small dish, place flour. Roll chicken, one piece at a time, in flour to coat.
In same fry-pan, place remaining 2 tablespoons butter and melt over medium heat. Add chicken and cook, turning, about 16 minutes or until brown on all sides. Remove to serving platter and keep hot.
Return apple mixture to fry-pan Stir in half-and-half cream and thoroughly heat. Spoon apple mixture over chicken. Garnish with apple wedges and cilantro sprigs.
Makes 4 to 6 servings.
Recipe and photograph provided courtesy of the National Chicken Council. Used with permission.