Aromatic African Chicken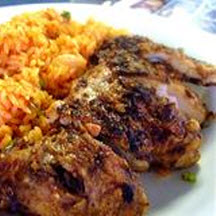 This African chicken dish features tender chunks of sweet potatoes, okra and apple flavored with rum, soy sauce, fresh ginger and clove. Serve with couscous studded with raisins.
Recipe Ingredients:
6 broiler-fryer chicken breast halves, skinned and boned
1/4 cup light rum
1 tablespoon soy sauce
1 tablespoon packed dark brown sugar
1/2 teaspoon minced fresh ginger
1/8 teaspoon ground cloves
1 garlic clove, minced
1 tablespoon canola oil
1/4 cup, plus 2 tablespoons sliced green onion
1 pound sweet potatoes, peeled, cut in 1 1/2 inch cubes
2 cups okra, cut in 1 1/2-inch pieces
2 medium tart apples, cored and cut in 1/2 inch rings
1 (14-ounce) can low sodium chicken broth
1 1/2 teaspoons cornstarch
2 teaspoons water
1/8 teaspoon ground black pepper
2 tablespoons fresh lime juice
Lime slices
Hot cooked couscous with raisins for accompaniment (optional)
Cooking Directions:
In shallow glass baking dish, place chicken in single layer.
In small bowl, make marinade by mixing together rum, soy sauce, brown sugar, ginger, cloves and garlic. Pour over chicken, cover and chill 30 minutes.
Remove chicken from marinade and dish. Reserve marinade.
In electric skillet (or large skillet), place oil and heat to medium temperature. Add chicken and cook about 8 minutes or until brown on all sides.
Add 1/4 cup green onion, sweet potatoes, okra, apple rings, chicken broth and reserved marinade. Cover; reduce heat and simmer about 30 minutes or until vegetables are tender and fork can be inserted in chicken with ease. Remove chicken and vegetables to serving platter; keep warm.
Increase heat to high temperature and bring liquid in skillet to a boil, stirring until liquid is reduced by about 1/3.
In small cup, place cornstarch; add water and stir until smooth. Add to skillet and cook, stirring, 1 minute, or until liquid has thickened. Stir in pepper and lime juice. Spoon sauce over chicken and vegetables. Sprinkle with remaining 2 tablespoons green onion and garnish with lime slices. Serve over couscous with raisins, if desired.
Makes 6 servings.
Recipe and photograph provided courtesy of the National Chicken Council. Used with permission.