Balsamic Chicken on
Minted Spinach, Fennel and Grape Slaw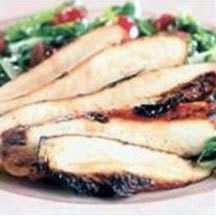 Chicken breasts are flavor-enhanced in a balsamic marinade, pan-seared, sliced and served atop a bed of baby spinach, julienne of fennel and red grapes with just the right touch of mint throughout. A red wine vinaigrette drizzled over all brings it altogether. A good choice for a summer afternoon supper.
Recipe developed at L'Academie de Cuisine, Bethesda, Maryland.
Recipe Ingredients:
4 chicken breast halves, skinless and boneless
1 tablespoons olive oil
Marinade:
1/2 cup balsamic vinegar
1/4 cup olive oil
2 cloves garlic, pressed or mashed
1/4 cup packed brown sugar
1/4 cup fresh mint, chopped
1 teaspoon salt
Slaw:
1 (6-ounce) bag baby spinach
2 bulbs fennel, cut julienne, about 3 cups
2 cups red grapes, halved
1/4 cup fresh mint, chopped
Vinaigrette:
1/4 cup olive oil
2 tablespoons red wine vinegar
1 clove garlic, minced
2 shallots, minced
1/4 teaspoon salt
1/8 teaspoon black pepper
Cooking Directions:
In medium bowl, whisk together balsamic vinegar, olive oil, mashed garlic, brown sugar, 1/4 cup fresh mint and 1 teaspoon salt. Pour ingredients into large zipper-lock bag; add chicken and seal bag. Turn chicken to make certain that all parts are coated with marinade. Refrigerate for at least 2 hours and up to 24 hours.
To cook chicken, place large skillet on stove over high heat. When very hot, add 1 tablespoon olive oil. Remove chicken from marinade and let excess drip off. Add chicken to skillet and sauté, turning, until both sides are nicely browned and chicken is cooked through, about 5 to 7 minutes per side. Transfer chicken to plate and keep warm.
In large bowl, toss spinach, fennel bulb, grapes and 1/4 cup fresh mint. In small bowl, whisk together 1/4 cup olive oil, red wine vinegar, minced garlic, shallots, 1/4 teaspoon salt and black pepper. Pour vinaigrette over slaw and toss well to coat. Divide slaw among four plates. Cut chicken into long, thin strips and arrange on top of slaw. Garnish with additional mint slices, if desired.
Makes 4 servings.
Nutritional Information Per Serving (1/4 of recipe): 394 calories; 19.1 g fat; 2.9 g saturated fat; 26.5 g carbohydrate.
Recipe and photograph provided courtesy of the National Chicken Council. Used with permission.