Cherry-Glazed Baked Chicken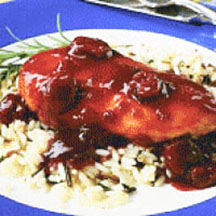 These cherry-glazed chicken breasts make an elegant entrée for a special dinner—or they can turn a weeknight dinner into a special occasion.
Recipe Ingredients:
1 (16-ounce) can pitted dark sweet cherries
1 tablespoon olive oil
1/2 cup chopped onion
1 tablespoon chopped garlic
1/4 cup honey
2 tablespoons rice vinegar
2 teaspoons hot mustard
3/4 teaspoon ground ginger
1/2 teaspoon salt
1/4 teaspoon ground black pepper
1/4 cup dried tart cherries
6 (6 1/2 ounces each) skinless, boneless chicken breast halves
Salt and pepper to taste
6 rosemary sprigs for garnish (optional)
Cooking Directions:
Preheat oven to 350°F (175°C). Line a 13x9x2-inch baking pan with foil and spray foil with non-stick spray; set aside.
To make the glaze: Drain the pitted dark sweet cherries; reserve 1/4 cup of cherry juice. In a blender, purée the drained cherries until smooth.
In a skillet, heat the olive oil and sauté the onion and garlic until soft; add the cherry purée, reserved 1/4 cup cherry juice, honey, vinegar, mustard, ginger, 1/2 teaspoon salt and 1/4 teaspoon ground black pepper; stir until smooth. Add dried cherries; simmer 5 minutes.
Arrange chicken breasts in foil-lined baking pan; season with salt and pepper to taste. Brush chicken lightly with cherry glaze; reserve remaining glaze. Cover the pan with foil and bake chicken 20 minutes; brush with additional glaze and bake uncovered 10 to 15 minutes longer or until chicken is done.
To serve, pour 2 tablespoons warm reserved glaze over each chicken breast and garnish with a rosemary sprig, if desired.
Makes 6 servings.
Recipe and photograph provided courtesy Washington State Fruit Commission.