Chicken and Great Northern Beans in Phyllo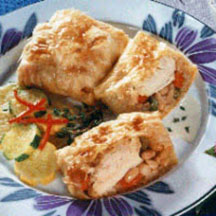 Crisp phyllo packets, filled with sautéed chicken breast and seasoned white beans, served with a thyme butter sauce.
Recipe Ingredients:
3 slices bacon, but into 1-inch pieces
1 medium onion, chopped
2 ribs celery, sliced
2 carrots, sliced
3 cloves garlic, halved
4 sprigs fresh or 1/2 teaspoon dried thyme leaves
1 bay leaf
2 (15.5-ounce) cans Great Northern beans, rinsed, drained
1 cup chicken stock
Salt and ground black pepper, to taste
8 skinless, boneless chicken breast halves, cut into halves
3 to 4 tablespoons olive oil
1 (16-ounce) package frozen phyllo dough, thawed
1 to 1 1/2 cups unsalted butter, melted
Thyme Butter Sauce:
3 ounces shallots, chopped
1/2 cup dry white wine
1/2 cup white wine vinegar
1/4 cup heavy cream
1 pound unsalted butter, cut into 1-inch cubes, softened
Salt
White pepper
4 sprigs fresh or 1/2 teaspoons dried thyme leaves
Cooking Directions:
Cook bacon until beginning to brown in large skillet; add onion, celery, carrots and garlic. Sauté until onion is tender, 8 to 10 minutes. Add thyme and bay leaf; sauté 1 minute. Add beans and chicken stock; heat to boiling. Reduce heat and simmer, uncovered,until vegetable are tender, 10 to 15 minutes; drain and discard any remaining stock. Season to taste with salt and pepper.
Sauté chicken in oil until browned on all sides in large skillet; drain and cool.
Preheat oven to 350ºF (175ºC).
Lay 1 phyllo sheet on clean surface; brush lightly with melted butter. Layer with 3 more sheets phyllo, brushing each with butter. Keep remaining phyllo covered with damp towel to prevent drying. Cut buttered phyllo stack into 4 equal squares. Place chicken breast piece in center of each square and top with about 1/4 cup bean mixture. Fold sides of squares in and roll up to form packets. Place packets, seam side down on parchment-lined cookie sheet; brush tops of packets with melted butter. Repeat with remaining phyllo, melted butter, chicken and bean mixture.
Bake in preheated oven until phyllo is golden, 15 to 20 minutes. Place on plates; serve with Thyme Butter Sauce.
For Thyme Butter Sauce: Heat shallots, wine and vinegar to boiling in medium saucepan; reduce heat and simmer rapidly until liquid is reduced to 2 tablespoons. Stir in cream and simmer rapidly until very thick. Reduce heat to low. Add butter to saucepan, 1 piece at a time, whisking constantly. Strain; discard shallots. Season to taste with salt and pepper. Remove thyme leaves from stems; stir into sauce. Makes about 2 cups.
Makes 8 main dish servings (2 packets each).
Recipe and photograph provided courtesy of The Bean Education & Awareness Network.