Chicken Breasts Normandy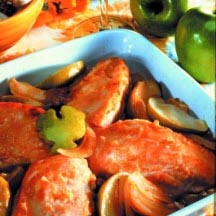 Sautéed chicken breasts are baked with wedges of Granny Smith apple, seasoned with onion, garlic and fresh ginger.
Recipe Ingredients:
4 large boneless, skinless chicken breast halves
Salt and freshly ground pepper to taste
1/2 cup all-purpose flour
2 tablespoons olive oil
1 tablespoon butter
1 small onion, cut in thin wedges
1 clove garlic, minced
1 teaspoon fresh gingerroot, finely minced
2 Granny Smith apples, cored and cut in wedges
1 cup apple cider
2 tablespoons packed brown sugar
1 tablespoon cider vinegar
Cooking Directions:
Preheat oven to 350°F (175°C).
Season chicken with salt and pepper and dredge in flour.
In large heavy skillet, heat olive oil and butter over medium-high heat. Add chicken breasts to skillet and sauté for 2 minutes on each side, just until golden. Remove chicken to casserole dish, arranging in single layer.
Add onion, garlic and gingerroot to the skillet; cook 1 minute. Stir in apple slices. Blend in cider, brown sugar and vinegar. Simmer on low heat 4 to 5 minutes.
Pour mixture over chicken and bake for about 20 minutes.
Remove from oven, serving at once. (If sauce does not thicken into glaze, remove chicken to plates and stir 1 teaspoon flour mixed with 3 tablespoons cider into casserole dish. Cook and stir over medium heat, just until thickened. Spoon over chicken and serve.)
Makes 4 servings.
Recipe and photograph provided courtesy of the National Chicken Council. Used with permission.