Chicken Fingers with Guava Szechwan Sauce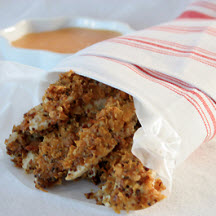 Recipe courtesy of CanolaInfo.org.
Recipe Ingredients:
1 1/2 cups corn flake crumbs
Salt and ground black pepper to taste
1/2 cup Old Style (coarse grain) Dijon mustard
1/2 cup mayonnaise
4 boneless skinless chicken breast halves, cut into 3/4-inch strips
1/2 cup guava juice or orange juice
1 tablespoon vinegar
3 tablespoons canola oil
1 tablespoon granulated sugar
1/2 teaspoon hot pepper sauce
2 teaspoons grated fresh gingerroot
2 cloves minced garlic
1 tablespoon honey
1 tablespoon cornstarch
Cooking Directions:
In medium bowl, combine corn flake crumbs and salt and pepper.
In separate small bowl, combine mustard and mayonnaise. Mix well.
Spread chicken pieces with mayonnaise mixture and roll in cornflake crumbs. Place on parchment lined baking sheet or nonstick baking sheet.
Bake at 375°F (190°C) for 10 to 15 minutes until chicken is cooked through and no longer pink.
Meanwhile, in medium saucepan, combine guava/orange juice, vinegar, canola oil, sugar, hot pepper sauce, ginger, garlic and honey. Bring to a boil while stirring.
Dissolve cornstarch in water and add to saucepan stirring constantly until sauce thickens. Serve warm as a dipping sauce.
Makes 4 servings.
Nutritional Information Per Serving (1/4 of recipe): Calories: 560; Total Fat: 36g; Saturated Fat: 4g; Cholesterol: 85mg; Total Carbs: 28g; Protein: 34g; Sodium: 1250mg.
Recipe and photograph courtesy of CanolaInfo.org.