Chicken Italiano with Provolone Cheese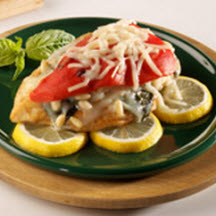 Breaded and sautéed chicken breasts are baked topped with a layer of fresh basil leaves, roasted red peppers, Parmesan and provolone cheeses and pine nuts. Serve with a garnish of fresh lemon for drizzling atop each portion.
Recipe Ingredients:
1/2 cup all-purpose flour
1 teaspoon salt
1 teaspoon ground black pepper
6 boneless, skinless chicken breast halves, (2 pounds)
2 tablespoons butter
1/4 cup lemon juice
1/4 cup Wisconsin Parmesan cheese, grated
2 cups (8 ounces) Wisconsin Provolone cheese, shredded - divided use
1/4 cup pine nuts
Small bunch of fresh basil leaves
1 (12-ounce) jar roasted red peppers, halved, drained
Lemon wedges for accompaniment (optional)
Cooking Directions:
Preheat oven to 400ºF (205ºC).
In a shallow bowl, combine flour, salt and pepper. Place chicken breasts between two sheets of waxed paper and flatten to 1/2-inch thickness. Dredge each breast in flour mixture.
Melt butter over medium-high heat. Brown chicken, turning occasionally, until fully cooked, about 6 minutes. Add additional butter, if necessary. Place chicken in a single layer in a 3-quart rectangular baking dish. Drizzle chicken with lemon juice.
In small bowl, combine Wisconsin Parmesan Cheese, 1 1/2 cups Wisconsin Provolone Cheese and pine nuts; set aside.
Cover each breast with a layer of basil leaves. Divide cheese mixture over breasts; cover with roasted red pepper halves. Sprinkle with remaining Provolone Cheese.
Bake for 10 to 20 minutes, until breasts are cooked through and cheese is melted.
Serve with lemon wedges, if desired.
Makes 6 servings.
Recipe and photograph provided courtesy of Wisconsin Milk Marketing Board, Inc.