Chicken Souvlaki with Feta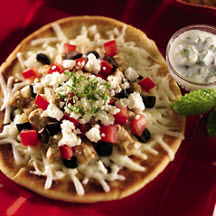 Flatbread topped with a Greek-seasoned mixture of cooked chicken, kalamata olives, diced tomatoes, pepato and feta cheeses and served with a mint yogurt sauce.
Recipe Ingredients:
1 pound boneless chicken breast, cut into 1/2-inch cubes
1/2 cup sweet onions, minced
2 teaspoons ground cumin
1 teaspoon ground cinnamon
1/2 teaspoon cayenne pepper
1/2 teaspoon salt
2 tablespoons olive oil
6 flat breads (6 to 7-inch pita, naan, or flour tortillas)
1 cup (4 ounces) pepato or Asiago cheese, grated
1/2 cup diced kalamata olives
1/2 cup diced tomatoes
1 cup (4 ounces) crumbled feta cheese
Yogurt Sauce:
1 cup plain yogurt
1 tablespoon minced mint
1/2 cup diced cucumber
Cooking Directions:
Preheat oven to 400°F (205°C).
In a large bowl, combine the chicken, onion, spices, and salt. Heat the oil in a large skillet; add the chicken mixture and cook over medium-high heat until fully cooked, about 5 to 8 minutes.
To assemble, sprinkle the tops of the flat bread rounds with the pepato or Asiago cheese; bake until the cheese is melted, about 5 minutes. Top with the chicken, olives and tomatoes. Sprinkle with the feta cheese and return to the oven for 5 minutes, or until toasted.
For Yogurt Sauce: Combine the yogurt, mint, and cucumbers; mix well. Serve with the toasted bread.
Makes 6 servings.
Recipe and photograph provided courtesy of Wisconsin Milk Marketing Board, Inc.