Chicken Tangine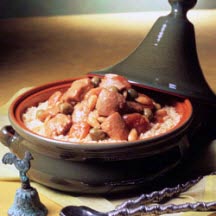 One of the most sensual cuisines in the world, Moroccan food has spices and flavors that appeal to the smell, sight and taste.
Chicken Tangine is made with rich chicken thigh meat, and spiced with garlic, ginger, coriander and cumin. Dried apricots, blanched almonds and pitted green olives, all found in the Mediterranean food basket, are added to enhance the flavor of the dish.
Recipe Ingredients:
6 to 7 chicken thighs, boneless and skinless, cut into 2-inch chunks
2 tablespoons all-purpose flour
1 tablespoon olive oil
1 medium onion, coarsely chopped
4 cloves garlic, minced
2 tablespoons minced gingerroot
1 teaspoon ground coriander
1 teaspoon ground cumin
1 cup dry white wine
2 cups chicken broth
1 cup dried apricots
1 cup whole blanched almonds
1 cup pitted green olives
Couscous for accompaniment
Cooking Directions:
In small glass bowl, place chicken and add flour. Toss chicken to coat.
In large pot over high heat, heat olive oil. Place chicken in olive oil; brown on all sides.
Reduce heat to medium-low; add onion, garlic and ginger. Sauté about 5 minutes.
Stir in coriander and cumin; sauté until aromatic, about 30 seconds. Add wine. Increase heat to high. Boil until wine has reduced by half. Stir in chicken broth, apricots, almonds and olives. Bring to a simmer; reduce heat to low, cover pot and simmer for 45 minutes.
Serve over couscous.
Makes 6 to 7 servings.
Recipe provided courtesy of the National Chicken Council. Used with permission.