Coconut Breaded Chicken with Crunchy Fruit Sauce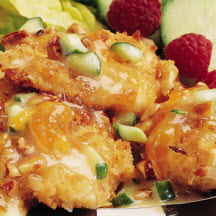 Oven-fried chicken gets a delicious tropical make-over in this easy recipe. The accompanying sauce is made with a convenient, ready-made slaw dressing, apricot preserves, cucumber and pecans.
Recipe Ingredients:
1 2/3 cups T. Marzetti slaw dressing, any flavor
2/3 cup apricot preserves
1/3 cup pecans, chopped
1/3 cup cucumber, remove seeds, chop and drain on paper towel
1 cup plain bread crumbs
1 cup unsweetened or sweetened flaked coconut
1 pound skinless, boneless chicken breast halves
Cooking Directions:
Preheat oven to 375°F (190°C).
For Sauce: mix together 2/3 cup slaw dressing, apricot preserves, chopped pecans and chopped cucumber; set aside.
Mix the bread crumbs and flaked coconut together.
Cut chicken breasts into bite size pieces. Spoon remaining slaw dressing over each piece, and roll the pieces in the bread crumb/coconut mixture.
Place on cookie sheet and bake 15 to 20 minutes or until chicken is done.
Serve chicken with sauce on the side.
Makes 4 to 6 servings.
Recipe and photograph provided by T. Marzetti Company courtesy of The Association For Dressings and Sauces.