Country Captain Chicken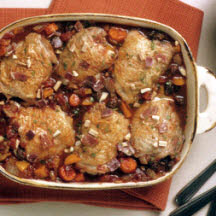 Although its heritage can be traced to India by its use of traditional Indian herbs and spices such as gingerroot, curry, garam masala and dried fruits such as the raisins — this one-pot-meal is a classic of Southern cooking, first gaining popularity in places such as Savannah in the late 1800's.
Recipe Ingredients:
1 cup cold water
1/2 cup raisins
1 tablespoon curry powder
1 tablespoon garam masala
1 1/2 teaspoons salt
1/2 teaspoon black pepper
2 slices bacon, diced
6 chicken thighs, bone-in and skin-on*
2 carrots, peeled and sliced into 1/4-inch thick pieces
2 yellow bell peppers, diced
1 onion, diced
3 cloves garlic, diced
1 (28-ounce) can crushed tomatoes, with juice
2 tablespoons fresh grated gingerroot
2/3 cup slivered almonds, lightly toasted
2 cups cooked white rice
1/2 cup parsley, chopped
Cooking Directions:
Preheat oven to 350°F (175°C). Place water in small saucepan and boil over high heat. Place raisins in small bowl; pour enough boiling water over just to cover raisins. Let stand.
In another small bowl, combine curry powder, garam masala, salt and pepper. Reserve.
In large, oven-proof skillet, cook bacon pieces over medium heat until golden brown, about 3 minutes. Remove with slotted spoon; place on paper towels and drain. Reserve 2 tablespoons bacon fat in skillet.
Add chicken to skillet and brown over medium-high heat, turning. (Add excess bacon fat if pan becomes too dry.) Remove chicken thighs to plate and set aside.
In same skillet, add carrots, bell peppers, onion and garlic; cook 6 minutes or until lightly softened.
Add tomatoes, reserved spice mixture, ginger, and raisins with the water. Simmer sauce to thicken, about 8 minutes.
Place chicken thighs in sauce, skin-up. Tent skillet loosely with foil; transfer to middle rack of oven. Bake 20 minutes.
Remove foil from skillet; cook the further thicken sauce, about 15 minutes more. Remove chicken from oven.
Spoon rice on serving platter; top with chicken thighs and then with tomato sauce. Garnish with bacon pieces, almonds and parsley.
Makes 4 servings.
*If you prefer, substitute with 2 to 3 quartered whole bone-in chicken breasts, depending on size.
Recipe and photograph provided courtesy of the National Chicken Council. Used with permission.