Crispy Chicken Fingers with Fresh Tomato Salsa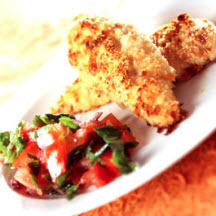 Recipe courtesy of the Flour Advisory Bureau.
Recipe Ingredients:
Fresh Tomato Salsa:
4 large tomatoes, seeded and finely chopped
1/4 small red onion, peeled and chopped
1 tablespoon olive oil
1 tablespoon finely shredded fresh basil
Seasoning salt and ground black pepper to taste
Crispy Chicken Fingers:
4 ounces fresh white bread crumbs
1 ounce cheddar cheese, finely grated
1 ounce freshly grated Parmesan cheese
4 small boneless skinless chicken breast
2 tablespoons all-purpose flour
1 large egg, beaten
Olive oil for drizzling
Cooking Directions:
For Fresh Tomato Salsa: In a medium sized bowl mix together the tomatoes, red onion, oil, basil and seasoning salt and pepper to taste. Cover and set aside.
For Crispy Chicken Fingers: Preheat the oven to 375°F (190°C).
In a shallow dish combine the bread crumbs, cheeses and seasoning. Set aside.
Cut each chicken breast into 4 to 5 long thin strips lengthwise. Place the chicken in a clean freezer bag with the flour and seasoning and shake together until chicken is well coated.
Place beaten egg in a shallow dish then dip the chicken strips into the egg until well coated then shake off any excess.
Dip the egg coated chicken strips into the bread crumb mixture and toss together until well coated.
Place chicken strips on a lightly greased baking tray and drizzle over a little extra oil. Cook in the preheated oven for 10 to 12 minutes turning over halfway through cooking until well cooked, golden brown and crispy.
Serve chicken strips immediately with the Fresh Tomato Salsa and salad.
Makes 4 servings.
Tip: The Fresh Tomato Salsa is delicious, but if you are pushed for time you can use a bought salsa or dip.
Nutritional Information Per Serving (1/4 of recipe): Calories: 358; Total Fat: 14g; Saturated Fat: 5g; Total Carbs: 27g; Fiber: 2g; Sugar: 6g.
Recipe and photograph courtesy of the Flour Advisory Bureau.