Curried Walnut Chicken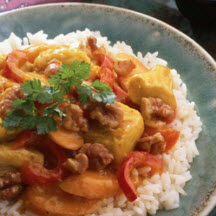 Golden toasted walnuts enhance the flavor and texture of this speedy curried chicken dish.
Recipe Ingredients:
1/2 cup coarsely chopped California Walnuts
2 cups chicken broth
3 tablespoons cornstarch
1 tablespoon curry powder
1 tablespoon lime juice
1 pound boneless, skinless chicken breasts, cut into 1-inch cubes
2 medium carrots, thinly sliced
1 red bell pepper, thinly sliced
4 green onions, thinly sliced
Salt and pepper, to taste
Hot cooked rice for accompaniment
Cooking Directions:
In a dry skillet over medium-high heat, cook walnuts until lightly toasted, about 1 to 2 minutes; set aside and reserve.
In a small bowl, whisk together broth, cornstarch, curry powder and lime juice; reserve.
In a large lightly oiled skillet, sauté chicken over medium-high heat, stirring occasionally until golden brown, about 5 minutes.
Stir in carrots and pepper; cook stirring occasionally for 2 minutes.
Stir in curry mixture and green onions. Bring to a boil; reduce heat to medium-low. Cover and cook until sauce is thickened and vegetables are tender-crisp, about 2 minutes.
Season with salt and pepper; stir in walnuts. Serve over rice.
Makes 6 servings.
Recipe and photograph provided courtesy of California Walnuts.