Golden Tuscan Chicken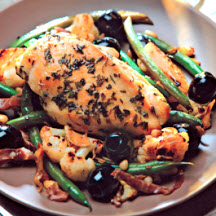 Recipe courtesy of California Ripe Olives.
Recipe Ingredients:
4 (6-ounce) boneless, skinless chicken breasts
1 tablespoon chopped thyme
1 tablespoon chopped oregano
3/4 teaspoon kosher salt
2 tablespoons olive oil
12 ounces (4 cups) cauliflowerets, quartered and blanched
1 ounce sliced prosciutto, chopped
2 tablespoons pine nuts
3 cloves garlic, thinly sliced
6 ounces green beans, trimmed and blanched
1 cup olives, whole, pitted
1 tablespoon lemon juice
1/4 teaspoon ground black pepper

Cooking Directions:
Season chicken breasts with 2 teaspoon of thyme and oregano and 1/2 teaspoon of salt.
Heat 1 tablespoon of olive oil in a large sauté pan over medium high heat. Place chicken breasts in pan and brown for 2 to 3 minutes. Flip over and brown for 2 more minutes. Transfer chicken to a high sided baking sheet and cook in a 450°F (230°C) oven for 8 minutes or until cooked through.
While chicken is roasting, heat remaining oil in sauté pan over medium-high heat. Add cauliflower and cook for 2 to 3 minutes until golden, stirring occasionally. Turn heat down to medium-low, add prosciutto, pine nuts and garlic and continue cooking for 1 to 2 minutes. Toss in green beans, olives, lemon juice and pepper. Cover and cook for 2 minutes until heated through.
Place 5 to 6 ounces of vegetable mixture onto each serving plate. Top with chicken and serve hot.
Makes 4 servings.
Recipe and photograph courtesy of California Ripe Olives.