Herb and Pumpkin Seed Coated Chicken Drumsticks
with Chunky Mango Sauce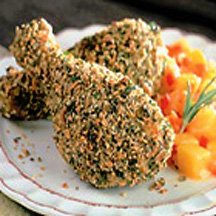 This deliciously innovative recipe is from the Lenotre Cooking School.
Recipe Ingredients:
12 chicken drumsticks
3 cups pumpkin seeds
2 tablespoons fresh rosemary, chopped
1 tablespoon fresh thyme, chopped
2 tablespoons fresh parsley, chopped
1/2 teaspoon salt
1/4 teaspoon black pepper
1 cup all-purpose flour
2 large eggs, beaten with 2 tablespoons water
1 tablespoon vegetable oil
1 onion, minced
1 red bell pepper, minced
3 cloves garlic, minced
3 mangoes, peeled and cubed
1/3 cup lime juice
2 tablespoons granulated sugar
Cooking Directions:
Preheat oven to 400°F (205°C). Cover a large sheet pan with aluminum foil. Coat foil with cooking spray.
Place pumpkin seeds in food processor and pulse until finely chopped. Transfer pumpkin seeds to medium bowl. Add rosemary, thyme, parsley, salt and pepper. Set aside.
In shallow dish, place flour. In another shallow dish or bowl, place egg and water mixture. Dredge drumsticks in flour, patting off excess. Coat each drumstick with egg and then with pumpkin seed mixture, covering thoroughly and pressing seeds onto the drumsticks. Place each drumstick on prepared sheet pan. Bake 50 minutes, until crisp and brown.
While chicken is cooking, prepare mango sauce by warming vegetable oil in non-stick skillet over medium heat. Add onion; sauté until soft, about 3 minutes. Stir in red bell pepper and garlic and cook 3 minutes more, stirring. Stir in mango, lime juice and sugar. Bring mixture to a simmer, then reduce heat to very low. Cook 8 minutes, stirring often. Serve hot with chicken drumsticks.
Makes 6 (2 drumstick) servings.
Recipe and photograph provided courtesy of the National Chicken Council. Used with permission.