Provolone and Shiitake Smothered Chicken Breasts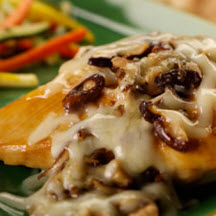 Pan-fried chicken breasts are served with a provolone cheese sauce with sautéed shallots and shiitake mushrooms.
Recipe Ingredients:
1/4 cup all-purpose flour
1 teaspoon ground black pepper
1/2 teaspoon salt
4 tablespoons (1/2 stick) butter - divided use
2 tablespoons olive oil
6 boneless, skinless chicken breast halves
1/4 cup chopped shallots
5 ounces fresh shiitake mushrooms, stems discarded, chopped
1/2 teaspoon dried thyme, crumbled
2 cups (8 ounces) shredded provolone cheese
Cooking Directions:
Combine flour, pepper, and salt; set aside.
Simultaneously, heat two skillets, one large and one 10-inch. In the large skillet, heat 2 tablespoons of butter and olive oil over high heat.
Dredge the chicken breasts in the flour mixture and cook approximately 4 minutes per side, until golden and fully-cooked.
In the 10-inch skillet, heat the remaining 2 tablespoons of butter over medium-high heat, and sauté the shallot for 2 to 3 minutes, stirring occasionally. Add the mushrooms and cook until the mushrooms are tender, about 5 minutes. Add the thyme and cheese, and stir to combine. As the cheese begins to melt, remove the skillet from the heat, but continue to stir until the cheese has fully melted. Pour over the chicken breasts, and serve immediately.
Makes 6 servings.
Recipe and photograph provided courtesy of Wisconsin Milk Marketing Board, Inc.