Roasted Chicken Thighs with Fall Fruit Salsa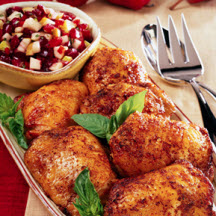 Matching the rich taste of thighs with the zing of autumn fruit, this delicious recipe was developed at the JNA Institute of Culinary Arts of Philadelphia, Pennsylvania.
Recipe Ingredients:
Chicken:
8 chicken thighs, bone-in and skin-on
1 tablespoon olive oil
1 teaspoon paprika
1 teaspoon salt
1 teaspoon black pepper
Fall Fruit Salsa:
3 ripe pears, coarsely diced
4 ripe plums, coarsely diced
1/4 cup dried cranberries
1/4 cup red onion, finely chopped
1/2 cup red pepper, diced
1 jalapeño pepper, seeded and minced
3 tablespoons basil, minced
1 teaspoon granulated sugar
1/4 teaspoon ground cinnamon
1 tablespoon balsamic vinegar
1 tablespoon olive oil
1/2 teaspoon salt
1/2 teaspoon black pepper
Cooking Directions:
Preheat oven to 375°F (175°C).
For Chicken: In large bowl, toss chicken thighs, olive oil, paprika, salt and pepper. Place chicken thighs in large roasting pan, skin side down. Roast 20 minutes. Turn thighs over to skin side up; roast an additional 20 minutes or until chicken is browned and cooked through, with an internal temperature of 180°F (85°C).
For Fall Fruit Salsa: While thighs roast, make salsa by combining all ingredients in large bowl. Mix gently and set aside at room temperature. Taste for seasoning and adjust accordingly.
To serve, place thighs on serving platter. Spoon salsa over each thigh; pass remaining salsa at table.
If you drink wine, try this dish with a Zinfandel.
Makes 4 servings.
Recipe and photograph provided courtesy of the National Chicken Council. Used with permission.