Rosemary Chicken and Mushrooms
with Mixed Vegetables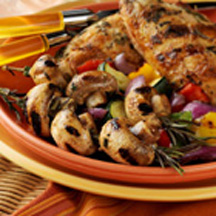 This dish includes the timeless taste of chicken on the bone with a great technique for grilling mushroom kabobs. White button mushrooms are threaded on rosemary stalks for added flavor and an impressive presentation.
Recipe Ingredients:
1 whole chicken, bone in and skin on (cut into two each breasts, thighs, drumsticks)
1 pound white button mushrooms
1/3 cup olive oil, plus extra for brushing vegetables
2/3 cup low-sodium vegetable broth
1/4 cup minced fresh rosemary - divided use
1 teaspoon freshly ground black pepper
4 (6-inch) sprigs rosemary with woody stems
2 pounds assorted summer vegetables cut into 1-inch pieces (summer squash, onion wedges, bell peppers, tomatoes)
Cooking Directions:
Preheat grill.
Place chicken and mushrooms in separate gallon-size plastic zipper bags. Whisk together olive oil, vegetable broth, rosemary and pepper and pour half of mixture in each bag. Seal bags and turn several times to coat food with rosemary oil. Bags may be prepared the night before and stored in refrigerator. If refrigerated, return chicken to room temperature before grilling.
Place chicken on grill skin side down and turn when skin turns deep brown. Grill chicken until crispy on outside and juices run clear when pierced with a fork, about 20 to 35 minutes. Remove and place on a platter; cover with foil and let rest for about 10 minutes.
While chicken cooks, thread mushrooms onto rosemary sprigs and other vegetables onto bamboo or metal skewers. Keep like vegetables together and brush them, excluding mushrooms, lightly with olive oil.
While chicken rests, grill vegetables. Start with firmer vegetables like mushrooms, onions and bell peppers, followed by softer ones like summer squash and tomatoes. Rotate once and grill until lightly charred and tender, about 10 minutes for firmer vegetables, 6 for softer vegetables.
Add vegetables to platter with chicken and serve.
Makes 4 servings.
Nutritional Tips: Mushrooms offer many essential nutrients, including the natural antioxidants selenium and ergothioneine, B vitamins riboflavin, niacin and pantothenic acid, and copper. White button mushrooms also are a largely unrecognized source of vitamin D – one serving provides 15 IU of vitamin D. And, mushrooms have close to 300 mg of potassium in each serving, an important nutrient many Americans do not get enough of. Best of all, one serving of mushrooms provides these essential nutrients in a mere 20 calories and zero grams of fat.
Recipe and photograph provided courtesy of the Mushroom Council and mushroominfo.com.