Rosemary Chicken with Mediterranean Brown Rice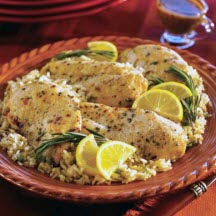 Flavorful and moist, fresh rosemary-seasoned chicken served with a zesty citrus and white wine pan sauce and wholesome brown rice.
Recipe Ingredients:
1/2 cup uncooked instant brown rice
1/2 of a 0.7-ounce packet Italian salad dressing mix
1 teaspoon chopped fresh rosemary or 1/4 teaspoon dried rosemary, crushed
4 boneless, skinless chicken breast halves (about 4 ounces each), all visible fat discarded
2 tablespoons olive oil
1/2 cup dry white wine (regular or nonalcoholic)
1/2 teaspoon grated lemon zest
2 tablespoons fresh lemon juice
2 medium green onions, finely chopped
1 teaspoon chopped fresh oregano leaves (optional)
1 medium lemon, quartered
Cooking Directions:
Prepare the rice using the package directions, omitting the salt and margarine.
Meanwhile, sprinkle the salad dressing mix and rosemary over both sides of the chicken. Using your fingertips, gently press the mixture so it adheres to the chicken.
In a large nonstick skillet, heat the oil over medium-high heat, swirling to coat the bottom. Add the chicken and immediately reduce the heat to medium. Cook for 4 minutes on each side, or until no longer pink in the center. Transfer to a plate.
Increase the heat to medium high. In the same skillet, stir together the wine, lemon zest, and lemon juice. Cook for 2 minutes, or until reduced to about 1/4 cup. Remove the skillet from the heat.
Stir the green onions and oregano into the cooked rice. Spoon the rice onto a platter. Arrange the chicken on the rice. Spoon the sauce over the chicken. Squeeze the lemon over the chicken and rice.
Makes 4 servings; 3 ounces chicken and 1/2 cup rice per serving.
Nutritional Information Per Serving (1/4 of recipe): Calories 263; Total Fat 8.5 g; Saturated Fat 1.5 g; Trans Fat 0.0 g; Polyunsaturated Fat 1.0 g; Monounsaturated Fat 5.5 g; Cholesterol 66 mg; Sodium 477 mg; Carbohydrates 13 g; Fiber 1 g; Sugars 2 g; Protein 27 g.
Dietary Exchanges: 3 lean meat; 1 starch.
Recipe and photograph reprinted with permission from Light & Easy Recipes, Copyright © 2008 by the American Heart Association. Published by Publications International, Ltd. Available at ShopHeart.com while supplies last; through ECES, Inc., Electronic Color Editorial Services.