Spicy Garlic Chicken Kabobs with Pistachio Vegetables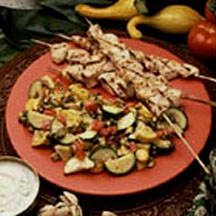 These chicken kabobs pack a flavor punch and are versatile enough to be served as a main dish or appetizer.
Recipe Ingredients:
2 whole (1 pound) chicken breasts, boned and skinned
1/2 pound zucchini, halved lengthwise then thickly sliced
1/2 pound yellow squash, cubed
1 large tomato, seeds drained, diced (8 ounces)
1/2 cup natural California pistachios, coarsely chopped
2 teaspoons vegetable oil
Spicy Garlic Baste (recipe follows)
Cooling Yogurt Mint Sauce (recipe follows)
Cooking Directions:
Cube chicken and thread on skewers (note: if using bamboo skewers, soak in water for 15 minutes prior to threading).
Brush with Spicy Garlic Baste until well coated.
Barbecue over medium-hot coals or broil 3 inches from heat for about 8 minutes, or until done. (Do not overcook). Turn and brush with marinade about halfway through.
Meanwhile, heat oil in skillet over high heat. Add zucchini and squash, stir-frying until tender-crisp, about 2 minutes. Reduce heat, add tomato, pistachios and remaining Garlic Baste. Stir-cook until hot and tender, about 2 more minutes. Turn onto platter and lay skewers on top. Serve with Cooling Yogurt Mint Sauce.
Makes 4 servings.
Spicy Garlic Baste: Combine 6 teaspoons minced garlic with 1/2 to 1 1/2 teaspoons bottled red pepper flakes and 1/4 cup bottled fat-free vinaigrette or Italian dressing.
Cooling Yogurt Mint Sauce: Combine 1 cup nonfat plain yogurt, 1/2 teaspoon grated lime peel and 1 tablespoon finely chopped fresh mint. Makes 1 cup.
Recipe and photograph provided courtesy of the California Pistachio Commission.