Sweet Potato, Chicken and Veggies (Two Ways)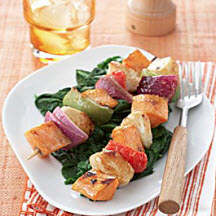 Recipe courtesy of the North Carolina Sweet Potato Commission.
Recipe Ingredients:
2 pounds medium-sized sweet potatoes (5 potatoes, 6 to 7 ounces each)
2 pounds boneless skinless chicken breasts, cut in 1-inch pieces
2 large sweet red and/or green peppers, cut in 1-inch squares
1 medium onion, cut in 1-inch pieces, layers separated
2 tablespoons vegetable oil
1/2 teaspoon salt
1/4 teaspoon ground black pepper
1/2 cup honey mustard
Cooking Directions:
Pierce sweet potatoes with fork tines. Microwave on High 3 minutes. Turn potatoes and microwave until almost tender, about 1 1/2 to 3 minutes longer depending on microwave power. Cool.
Peel and cut sweet potatoes in 1-inch pieces (makes about 4 cups).
In medium bowl, combine 32 sweet potato pieces and 24 chicken, pepper and onion pieces (this should be about half of each ingredient); reserve and set aside.
In large skillet heat oil. Add the remaining half of sweet potato, chicken, peppers and onions; season with salt and pepper. Cook and stir gently until chicken is no longer pink, 10 to 12 minutes. Remove to a microwavable bowl. Cover and refrigerate for pita filling variation.
For Sweet Potato and Chicken Skewers: Into reserved sweet potato mixture in bowl, stir combination of honey mustard and 2 tablespoons water.
On 8 skewers, alternately thread sweet potatoes, chicken and vegetables.
Heat large grill pan coated with cooking spray over medium heat until hot or preheat broiler. Arrange skewers in grill pan or on broiler pan coated with cooking spray, brushing with any honey mustard remaining in bowl.
Cook until chicken is cooked through, about 8 minutes, turning occasionally. Serve hot over steamed spinach, if desired.
For Stuffed Pitas with Feta and Olives: To reserved cooked sweet potato, chicken and vegetable mixture, add 3/4 cup crumbled feta cheese, 1/2 cup prepared Greek or vinaigrette salad dressing and 1/2 cup sliced black olives.
Microwave, lightly covered, just until hot.
Spoon mixture into 4 large pita pockets. Add chopped tomato, if desired.
Makes 4 servings.
Recipe and photograph courtesy of the North Carolina Sweet Potato Commission.