Tomato Roasted Chicken Thighs with Lima Bean Purée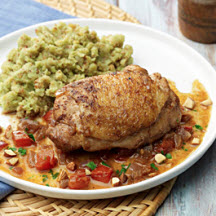 Recipe courtesy of the National Chicken Council.
Recipe Ingredients:
8 chicken thighs
3/4 teaspoon salt - divided use
1/2 teaspoon fresh ground pepper - divided use
2 tablespoons olive oil
1 red onion, chopped
1 teaspoon ground cumin
1 teaspoon paprika
1/2 teaspoon nutmeg
1/2 teaspoon ground cloves
1/8 teaspoon ground cinnamon
Pinch allspice
Pinch cayenne pepper
1/2 cup red wine vinegar
3 ripe tomatoes, cut into large dice
2 tablespoons chopped whole almonds
2 tablespoons chopped fresh Italian (flat-leaf) parsley
Lima Bean Purée:
2 cups fresh lima beans*
3 large garlic cloves
1/2 cup coarsely chopped whole almonds
1/4 cup olive oil
2 teaspoons fresh lemon juice
1/4 teaspoon salt
1/4 teaspoon fresh ground pepper
Cooking Directions:
Preheat oven to 350°F (175°C).
Season chicken with salt and pepper.
In large oven-proof sauté pan, heat oil over medium high heat. Add chicken thighs, skin side down, and sauté until well browned, about 4 minutes. Turn and sauté another 4 to 5 minutes. Remove from pan and reserve.
To same pan, add onion, cumin., paprika, nutmeg, cloves, cinnamon, allspice, and cayenne. Sauté, stirring, until onion is softened and beginning to brown, about 2 to 3 minutes. Add red wine vinegar and stir, scraping up any brown bits in the pan. Bring to a boil and cook for another minute.
Add tomatoes to pan and top with chicken. Place pan, uncovered, in oven and roast for 35 to 40 minutes or until chicken is tender and registers 170°F (76.6°C) on an instant read thermometer.
While chicken is roasting, make Lima Bean Purée. In a small saucepan, combine beans, 2 cups water, and garlic Bring to a boil and cook until beans are very tender, about 20 minutes. Drain, reserving liquid.
Add almonds to processor; pulse until well blended. Add beans and process until combined. With machine running, gradually add oil, scraping down sides as needed. Add lemon juice, salt, and pepper. If purée is too thick, add cooking liquid to loosen, 1 tablespoon at a time. The purée should be the consistency of slightly loose mashed potatoes.
To serve, spoon purée on individual plates or a platter. Place chicken thighs on purée (or next to) and spoon tomato sauce over chicken.
Makes 4 servings.
*Or, 1 (16 ounce) package frozen lima beans.
Nutritional Information Per Serving (1/4 of recipe): Calories: 1100; Total Fat: 72g; Saturated Fat: 15g; Total Carbs: 37g; Fiber: 12g; Sugar: 6g; Protein: 75g; Sodium: 720mg.
Recipe and photograph provided courtesy of the National Chicken Council. Used with permission.