Almond Rounds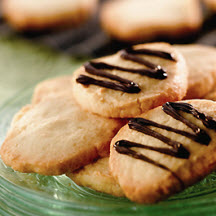 Recipe courtesy of The Incredible Edible Egg™.
Recipe Ingredients:
1 cup butter, softened
1 cup granulated sugar
5 large egg yolks
1/2 cup almonds, finely ground
1 teaspoon almond extract
3 cups all-purpose flour
1/2 teaspoon baking powder
1/4 teaspoon salt
1/2 cup dark chocolate chips (optional)
Cooking Directions:
In a large bowl, with mixer on high speed, beat together butter and sugar until light and fluffy. Add egg yolks, almonds and almond extract; beat to mix.
In a small bowl, combine flour, baking powder and salt. Gradually add flour mixture into mixing bowl, beating on low speed until combined.
Place half of cookie dough on waxed or parchment paper; shape dough into 1-inch by 15-inch roll; repeat with remaining dough.

Wrap in freezer wrap; freeze until ready to bake (at least two hours to firm up dough).
When ready to bake, Preheat oven to 350°F (175°C).
Slice cookies into 1/4-inch slices; place on cookie sheet.
Bake until lightly browned, about 12 to 15 minutes Remove from oven; place on cooling rack. Cool completely.
Makes 36 cookies.
Tip: If desired, melt chocolate and drizzle on top of cookies.
Nutritional Information Per Serving (1/36 of recipe): Calories: 121; Total Fat: 7g; Cholesterol: 43mg; Total Carbs: 14g; Protein: 2g; Sodium: 76mg.
Recipe and photograph courtesy of The Incredible Edible Egg™.