Basic Cookie Dough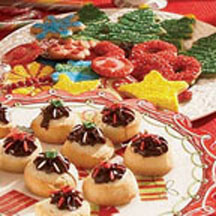 This is a good, basic cookie dough recipe with which you can add different ingredients to customize the taste and texture to your personal preferences.
Recipe Ingredients:
1 cup (2 sticks) butter
3/4 cup granulated sugar
1/2 cup brown sugar
2 large eggs
1 teaspoon vanilla extract
2 1/4 cups all-purpose flour
1 teaspoon baking soda
Mix-In Suggestions: citrus peel, pumpkin pie spice, instant coffee, toffee chips, peppermint chips, chocolate chips and butterscotch chips, raisins, dried cherries and cranberries, etc.
Cooking Directions:
Cream butter and sugars until fluffy.
Add eggs and vanilla and beat until well mixed.
In separate bowl, whisk flour and baking soda together, then add slowly to creamed mixture, beating until combined.
Add your favorite Mix-In(s) in proportion to personal taste.
Bake in a preheated oven at 375°F (190°C) for 10 minutes.
Makes 3 to 4 dozen cookies.
Tip: Add Mix-In ingredients such as citrus peel, spices and instant coffee (1 to 2 teaspoons) when adding the eggs and vanilla. Add Mix-In ingredients such as chocolate chips, nuts or raisins (1 to 2 cups) after flour mixture has been incorporated into the dough.
Recipe and photograph provided courtesy of www.Ginnys.com; through ARA Content.