Cherry-Pistachio Biscotti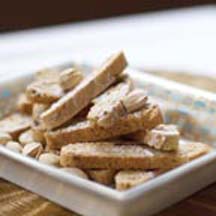 Enjoy these cherry and pistachio laden biscotti with your favorite hot beverage.
Recipe Ingredients:
2 cups all-purpose flour
1 cup whole wheat flour
2 teaspoons baking powder
1/4 teaspoon salt
1 cup granulated sugar
1/4 cup butter
2 tablespoons 50/50 butter blend spread
1/2 teaspoon almond extract
2 large eggs
2/3 cup pistachios, chopped
1/2 cup dried tart cherries or cherry-flavor sweetened dried cranberries
Cooking Directions:
Preheat oven to 350°F (175°C). Line baking sheet with foil.
Whisk flours, baking powder and salt in bowl.
Beat sugar, butter spread and almond extract in medium bowl with electric mixer on medium speed until combined. Beat in eggs, one at a time. Beat in dry ingredients in thirds. Add pistachios and cherries and beat to combine.
Form into 2 slightly flat 10 x 2 1/2-inch logs. Put on pan and bake 35 minutes. Remove from oven. Cover with moist towel and let stand 10 minutes. Cut crosswise into 1/3-inch thick slices. Lay cut side down on ungreased baking sheets. Bake 12 minutes, turning once.
Makes 4 dozen biscotti.
Nutritional Information Per Serving (1/48 of recipe): Calories 66, Carbohydrates 10g, Fat 2g, Saturated Fat 1g, Protein 1g, Cholesterol 11mg, Dietary Fiber 1g, Sodium 32mg, Sugar 4g.
Recipe and photograph provided courtesy of Western Pistachio Association, ALL RIGHTS RESERVED © 2007 Rodale; through ECES, Inc., Electronic Color Editorial Services.