Chocolate Almond Thumbprint Cookies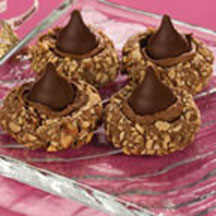 This tasty recipe combines creamy milk chocolate with crunchy almonds for a delectable treat.
Recipe Ingredients:
Cookies:
1 cup softened butter
2/3 cup granulated sugar
2 egg yolks
1/2 teaspoon vanilla extract
2 cups all-purpose flour
1/4 cup Hershey's Cocoa
1/2 teaspoon salt
1 cup finely chopped almonds
Chocolate filling:
42 Hershey's Kisses Brand Milk Chocolates with Almonds
1/2 cup powdered sugar
1 tablespoon Hershey's Cocoa
1 tablespoon softened butter
2 1/2 teaspoons milk
1/4 teaspoon vanilla extract
Cooking Directions:
Preheat oven to 350°F (175°C) and remove the wrappers from the milk chocolates. Beat together butter, sugar, egg yolks and vanilla extract together until well blended. Stir together flour, cocoa and salt in a separate bowl and mix into the butter mixture. Roll dough into one-inch balls and roll in chopped almonds. Place on an ungreased cookie sheet and press thumb gently into the center of each cookie. Bake 18 to 20 minutes or until set. Remove from cookie sheet and cool completely.
Prepare chocolate filling by combining powdered sugar, cocoa, butter, milk and vanilla extract in a small bowl. Beat mixture until smooth. Spoon or pipe about 1/4 teaspoon of the chocolate filling into each thumbprint on the cooled cookies. Gently press one milk chocolate into the center of each cookie.
Makes 3 1/2 dozen cookies.
Recipe and photograph provided courtesy of www.kissescookies.com; through ARA Content.