Chocolate Popcorn Cookie Sticks (Biscotti)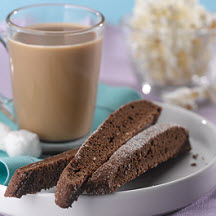 Recipe courtesy of The Popcorn Board.
Recipe Ingredients:
1 cup egg substitute
1 1/2 teaspoons vanilla extract
1 cup plus 3 tablespoons granulated sugar - divided use
3 cups air-popped popcorn, ground in food processor or blender
2 1/4 to 2 1/2 cups all-purpose flour
3/4 cup unsweetened cocoa powder
4 teaspoons baking powder
Cooking Directions:
Preheat oven to 300°F (150°C).
Line baking sheet with foil and spray with cooking spray.
Combine egg substitute, vanilla extract, and 1 cup granulated sugar in large bowl; mix well. Add popcorn, flour, cocoa powder, and baking powder and mix well. (Dough will be stiff but continue mixing until all ingredients are well combined.)
Sprinkle remaining sugar on work surface; divide dough into 3 equal pieces. Roll dough into 8x4x1/2-inch logs and roll in sugar lightly on all sides. Transfer logs to baking sheet, leaving a space between them.
Bake for 25 to 30 minutes.
Remove from oven and allow "logs" to cool for 5 minutes.
Cut logs diagonally into 1/2-inch slices. Arrange in a single layer on baking sheet.
Bake 10 minutes; turn cookies over and bake 5 to 10 minutes longer until lightly browned and crisp on both sides.
Cool cookies and store in airtight container.
Makes 24 cookies.
Recipe and photograph courtesy of The Popcorn Board.