Healthy Cranberry Thumbprint Cookies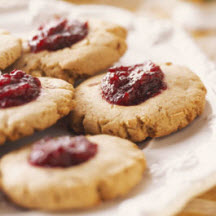 Recipe courtesy of Cranberry Marketing Committee.
Recipe Ingredients:
Spicy Cranberry Orange Filling:
12 ounces fresh cranberries
2 oranges, peeled and chopped
1 cup granulated sugar
1/2 teaspoon ground cinnamon
1/4 teaspoon ground nutmeg
1/8 teaspoon ground cloves
2 teaspoons grated orange peel
Low-Fat Thumbprint Cookie:
4 to 4 1/2 cups all-purpose flour
1/4 cup hazelnuts, toasted, diced
1 teaspoon ground cinnamon
3/4 teaspoon baking soda
1/4 teaspoon salt
1 1/4 cup granulated sugar
1/4 cup butter or margarine
1 large egg
1 large egg white
1 teaspoon vanilla extract
2/3 cup applesauce
Cooking Directions:
For Spicy Cranberry Orange Filling: Place cranberries, oranges, sugar and spices in medium saucepan. Cover and bring to boil. Turn down heat and simmer 12 to 15 minutes, stirring occasionally, until cranberries burst and mixture is consistency of jam. Remove from heat and stir in orange peel; set aside.
For Low-Fat Thumbprint Cookies: Stir flour, hazelnuts, cinnamon, baking soda and salt together; set aside.
Cream sugar and butter or margarine together until blended.
Add egg, egg white and vanilla extract. Beat until light and fluffy.
Add applesauce and beat until blended.
Beating on low speed, slowly add flour mixture to creamed mixture. Beat until just blended.
Cover and chill in refrigerator 1 to 2 hours.
Preheat oven to 375°F (190°C).
Shape dough into 1-inch balls and place on greased baking sheet.
Flatten dough balls into 3-inch circles with bottom of glass*.
Using thumb, make a wide indentation on top of each cookie. Place 1 teaspoon filling into each center.
Bake for 8 to 12 minutes until edges are lightly browned. Cool completely on wire rack.
Makes 42 cookies.
*If glass sticks to dough, dip bottom in sugar before flattening dough.
Nutritional Information Per Serving (2 cookies): Calories: 120; Total Fat: 2g; Cholesterol: 5mg; Total Carbs: 23g; Fiber: 1g; Protein: 2g; Sodium: 50mg.
Recipe and photograph courtesy of Cranberry Marketing Committee.