Jelly Jewel Cookies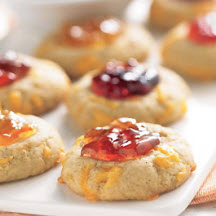 Jelly glistens like a jewel atop these delicate thumbprints that offer an unusual contrast of sweet and savory flavors with grated cheddar cheese incorporated in the dough, as well as rolled in prior to baking.
Recipe Ingredients:
2 1/2 cups all-purpose flour
1/2 teaspoon salt
1 teaspoon ground cinnamon
1/2 teaspoon baking soda
3/4 cup (1 1/2 sticks) butter, softened
2/3 cup granulated sugar
1 teaspoon pure vanilla extract
2 large eggs
1 3/4 cups (7 ounces) Wisconsin Cheddar Cheese, coarsely grated
Jellies of your choice: apple, grape, strawberry, currant, etc.
Optional: additional 1 cup grated Cheddar Cheese for rolling cookies
Cooking Directions:
Preheat oven to 350ºF (175ºC). Line baking sheets with parchment paper or leave ungreased.
Combine flour, salt, cinnamon and baking soda in a bowl; set aside.
Combine butter and sugar in medium bowl. Cream together. Add vanilla and eggs. Mix to combine. Add flour mixture. Stir in grated Cheddar.
Shape dough into walnut-size balls. If desired, roll each ball in additional grated Cheddar to coat. Place cookies 2 inches apart on sheets. Dip your thumb in flour and make a deep indentation in center of each cookie. Fill center with 3/4 teaspoon jelly.
Bake until edges are golden brown, about 15 minutes. Let stand for 3 to 4 minutes. Transfer to cooling racks to cool completely.
Makes 4 dozen cookies.
Recipe and photograph provided courtesy of Wisconsin Milk Marketing Board, Inc.