Mojito Jammies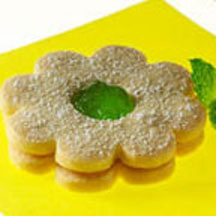 Lime zest, mint and rum flavorings put the mojito in these fun sandwich cookies.
Recipe Ingredients:
3/4 cup granulated sugar
1 tablespoon lightly packed grated lime zest
1/4 teaspoon salt
2 1/2 cups all-purpose flour
1 cup (2 sticks) unsalted butter, cut into 1/2-inch pieces, cool but not too firm
2 tablespoon cream cheese
1 large egg yolk
2 teaspoon rum (or 1 1/2 teaspoon pure vanilla extract)
1/4 teaspoon peppermint extract
Filling:
3/4 cup mint jelly
1 tablespoon rum or water
1 teaspoon granulated sugar
Powdered sugar, for dusting
Cooking Directions:
Combine the sugar and lime zest in a food processor fitted with the metal blade or in a bowl with a wooden spoon. Add the salt and flour, mix to combine.
Add butter and cream cheese; mix until dough resembles coarse sand. Add egg yolk, rum (or vanilla) and mint extract. Mix until the dough clumps together. Transfer to a large mixing bowl and knead with your hands until it holds together in a ball. Divide dough into two disks, wrap in plastic wrap and refrigerate for 20 to 30 minutes.
Preheat the oven to 350ºF (175ºC) with the oven racks in the upper and lower thirds. Line two baking sheets with parchment paper or butter them evenly.
Working with one disk at a time, roll out the dough to 1/8-inch thickness between sheets of lightly floured wax or parchment paper. Slide the rolled dough, still between sheets of paper, onto a baking sheet, and chill for 10 to 20 minutes. Remove top paper, carefully turn over and remove remaining paper.
Using a 2 to 2 1/2-inch cookie cutter, cut the dough into shapes and place about 1 1/2 inches apart on the prepared baking sheets. Cut a hole out of the center of half the cookies to make a window for the filling. Gather remaining dough scraps into a ball, reroll and cut into shapes. Do this only once.
Bake, rotating the baking sheet about halfway through, until lightly golden, 10 to 15 minutes. The top cookies with the cutout centers will bake more quickly. Let the cookies cool on a wire rack.
Combine mint jelly, rum (or water) and sugar in a small saucepan over medium heat. Simmer for 2 to 3 minutes, cool to room temperature.
Using a small strainer or sugar shaker, dust the top halves of the cookies (the ones with the holes in the centers) with powdered sugar. Place about 3/4 teaspoon of mint jelly onto a cookie bottom, smearing it lightly around the whole cookie leaving a small mound in the center. Top with a powdered sugar-dusted half.
Makes 2 1/2 to 3 dozen sandwich cookies.
Recipe and photograph provided courtesy of Wisconsin Milk Marketing Board, Inc.