Peanut Chocolate Chip Biscotti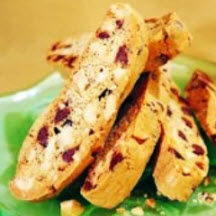 Biscotti are long, thin Italian cookies that are served with wine or coffee after a meal. Relax after your next meal with a crisp, crunchy peanutty biscotti.
Recipe Ingredients:
8 ounces (2 sticks, 1 cup) unsalted butter, softened
2 cups granulated sugar
6 large eggs
4 1/2 cups all-purpose flour
2 teaspoons baking powder
1 teaspoon baking soda
1 teaspoon salt
2 teaspoons vanilla extract
3 cups mini chocolate chips
3 cups peanuts
Cooking Directions:
Cream butter, sugar and eggs until fluffy. Stir flour, baking powder, soda and salt together in a bowl, then add to butter mixture.
Add chocolate chips and peanuts and mix until smooth. Divide dough into 2 or 3 portions, roll in a little flour and shape into logs about 1x3-inches. Chill.
Bake chilled logs on parchment paper at 325°F (160°C) for 30 to 40 minutes until firm.
Cool completely, then slice about 1/2-inch thick, spread out on cookie sheet pan, standing each piece upright and bake again at 325°F (160°C) until dry and lightly toasted.
Store in airtight container.
Makes 48 biscotti.
Nutritional Information Per Serving (1/48 of recipe; 1 biscotti): Calories: 241; Calories from Fat: 116; Fat: 13g; Trans fats: 0; Cholesterol: 34mg; Carbohydrate: 28g; Protein: 5g; Fiber: 2g; Sodium: 79mg.
Recipe and photograph courtesy of the National Peanut Board.