Wonderful Sour Cream Cookies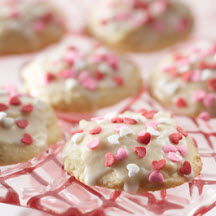 Recipe courtesy of The Soyfoods Council.
Recipe Ingredients:
Cookies:
11 tablespoons (1 stick plus 3 tablespoons) unsalted butter or soy margarine, softened
1 1/3 cups granulated sugar
1 large eggs
1/4 cup soft tofu
1 teaspoon vanilla extract
3 drops almond extract
1/3 cup dairy sour cream
1/3 cup soy sour cream
3/4 teaspoon baking soda
2 cups all purpose flour
2/3 cup soy flour
Vanilla Icing:
1 1/3 cups sifted powdered sugar
2 tablespoons vanilla soy milk
3/4 teaspoon vanilla extract
1/4 teaspoon almond extract
Candy sprinkles, if desired
Cooking Directions:
For Cookies: In large mixing bowl, cream butter and sugar at medium speed until light, about 3 minutes. Add egg, tofu and extracts and beat until blended.
In a small bowl, stir together the sour creams and baking soda (the mixture will foam a little).
Add the flours to the butter mixture alternately with the sour cream mixture, beginning and ending with the flour. Do not over mix.
Drop by level tablespoonful onto lightly greased baking sheets, spacing them about an inch apart.
Bake until lightly browned around the edges, 10 to 12 minutes Transfer to a wire rack to cool slightly.
For Vanilla Icing: In a small bowl, stir together the powdered sugar, soy milk, and vanilla extract and almond extracts until smooth.
Spread icing on cooled cookies. Sprinkle with candy sprinkles, if desired.
Makes 12 cookies.
Recipe and photograph courtesy of The Soyfoods Council.