Apple Raisin Bread Pudding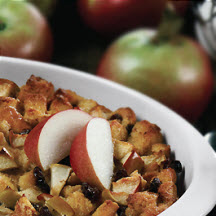 Bread pudding—what's that bring to mind? Comfort food, perhaps? Cool autumn evenings are ahead and this dessert fills the bill for something warm and soothing to brighten any day.
Recipe Ingredients:
2 tablespoons butter
2 cups chopped cored cooking apples (about 2 medium)
3 cups day-old bread cubes (about 3 slices)
1/2 cup raisins
4 large eggs
2 cups skim or low-fat milk
1/3 cup firmly-packed brown sugar
1 teaspoon vanilla extract
3/4 teaspoon pumpkin pie spice
Whipped cream, whipped topping or ice cream, optional
Apple wedges (optional)
Cooking Directions:
In small saucepan over medium heat, melt butter. Stir in chopped apples. Cover and cook over medium heat, stirring occasionally, until slightly soft, about 5 to 7 minutes.
In shallow 1 1/2 quart casserole, lightly toss together apples, bread cubes and raisins. In medium bowl, beat together eggs, milk, sugar, vanilla and spice until sugar is dissolved. Pour over apple mixture. Cover and refrigerate several hours or overnight.
Bake in preheated 350°F oven until knife inserted near center comes out clean, about 45 to 55 minutes. Serve hot, warm, or chilled garnished with whipped cream and/or apple wedges, if desired.
Makes 8 servings.
Recipe and photograph provided courtesy of the American Egg Board.