Cherry Tiramisu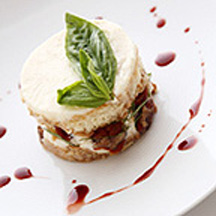 An exquisite cherry twist on the classic Italian dessert.
Recipe Ingredients:
Cherry Syrup:
2/3 cup tart cherries
1/3 cup granulated sugar
1 cup water
7 ounces lady finger cookies
Mascarpone Filling:
1 cup mascarpone
3/4 cup whipping cream
1/4 cup sweetened condensed milk
Flavor options: 10 large basil leaves, chopped or 2 ounces shaved chocolate or 6 tablespoons dark rum
Cooking Directions:
For Cherry Syrup: Combine all ingredients and boil for 8 minutes. Let sit until it reaches room temperature.
Dip the ladyfingers in the syrup for a few seconds each side.
Place a layer of ladyfingers in a 9x9x2-inch square dish.
For Mascarpone Filling: Mix the cream, milk, and mascarpone together until smooth.
Top the ladyfingers with a layer of the mascarpone cream, followed by the cherries taken from the syrup.
Add a layer of one of the flavor options, if desired ( if using the rum, add directly to the syrup).
Continue with another layer of dipped ladyfingers and finish by topping with the remaining mascarpone cream.
Makes 6 servings.
Recipe and photograph are provided courtesy of the Cherry Marketing Institute.