Cinnamon Rice Pudding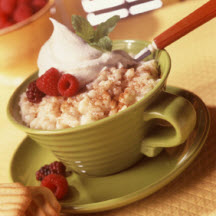 The aroma of cinnamon alone is comforting — add it to rice pudding and you'll taste the calming effect in every spoonful!
Recipe Ingredients:
3 cups cooked medium grain rice
3 cups milk
1/2 cup granulated sugar
1/4 cup butter
2 cinnamon sticks
1 teaspoon vanilla extract
Ground cinnamon (optional)
Whipped cream (optional)
Cooking Directions:
Combine rice, milk, sugar, butter and cinnamon sticks in 2-quart saucepan. Cook over medium heat until thick and creamy (20 to 25 minutes), stirring frequently. Remove from heat; remove cinnamon and top with whipped cream, if desired.
Makes 6 servings.
Recipe and photograph provided courtesy of USA Rice Federation.