Bill Nicholson's Krispy Kreme Bread Pudding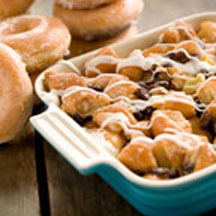 This is Bill Nicholson's decadent bread pudding recipe as seen on Paula Deen's cooking show, Paula's Home Cooking.
Recipe Ingredients:
Pudding:
2 dozen (stale) Krispy Kreme donuts*
1 (14-ounce) can sweetened condensed milk (not evaporated)
2 (14.5-ounce) cans fruit cocktail (undrained)
2 large eggs, beaten
1 (9-ounce) box golden raisins
Pinch salt
1 or 2 teaspoons ground cinnamon
Butter Rum Sauce:
1/2 cup butter
1 (16-ounce) box powdered sugar
Rum, to taste
Cooking Directions:
For Pudding: Generously grease a 13x9x2-inch glass baking dish.
Cube donuts into prepared baking dish.
Mix remaining ingredients together and pour over doughnuts and let soak for about 30 minutes (or cover and place in refrigerator overnight).
Meanwhile, preheat oven to 350°F (175°F).
Bake for about 1 hour until center is firm. Serve warm with Butter Rum Sauce drizzled over individual servings.
For Butter Run Sauce: Melt butter and slowly stir in powdered sugar. Add rum to taste, and heat until bubbly. Pour over individual servings of the bread pudding.
Makes 12 servings.
*If Krispy Kremes are not unavailable in your area, you can substitute with other glazed doughnuts. However, you should take into consideration that a Krispy Kreme glazed doughnut is about 3/4 the size of other well-known glazed doughnuts, so you may only need about 1 1/2 dozen of the other brand.
Recipe and photograph provided courtesy of Get Cookin' with Paula Deene; through EQAL.