Mascarpone Savarin
with Pears and Chocolate Sauce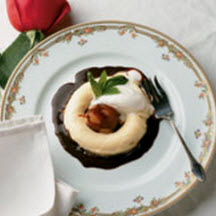 This sophisticated dessert makes an impressive, elegant final course to a sit-down dinner. Recipe by Chef Philippe Schmit.
Recipe Ingredients:
Mascarpone Mousse:
2 ounces pasteurized egg yolk product (equivalent of 4 egg yolks)
1/2 cup granulated sugar
8 ounces mascarpone cheese
7 ounces pasteurized egg white product (equivalent of 6 egg whites)
Poached Pears:
2 1/2 cups water
1 1/3 cups granulated sugar
1 vanilla bean, split
Juice of 1 lemon
8 pears, peeled
Chocolate Sauce:
3/4 cup water
2/3 cup granulated sugar
2/3 cup unsweetened cocoa powder
Biscuit:
5 large eggs
2/3 cup granulated sugar
1 1/4 cups all-purpose flour
1 cup simple syrup, flavored with kirsch, optional*
Cooking Directions:
For Mousse: In a small bowl beat the egg yolk product and sugar with an electric mixer. Combine the cheese and yolk mixture. In a large bowl, beat the egg white product until stiff. Fold the cheese mixture into the egg white mixture. Chill.
For Pears: In a medium saucepan over medium-low heat, combine the water, sugar, vanilla, and lemon juice. Add the pears. Simmer until the pears are tender. Cool in the poaching liquid. Dice 2 of the pears. Set aside.
For Chocolate Sauce: In a small pan over medium heat, combine the water, sugar, and cocoa. Bring to a boil. Remove the pan from the heat. Strain the sauce into a bowl. Set aside to cool.
For Biscuit: Preheat the oven to 400°F (205°C). In a medium bowl whisk the eggs and sugar until frothy. Carefully fold in the flour. Spread the batter thinly over a 12 x 18-inch baking sheet. Bake for 8 to 9 minutes. Remove from the oven. Brush with the kirsch syrup.
To assemble and serve, cut the biscuit into pieces to line a 10-inch savarin (ring) mold. Add layers of the mousse, diced pears, biscuit, and mousse. Chill 2 hours until very cold. Turn out the savarin onto a plate. Cut into six servings. Serve each with a poached pear, and drizzle with the chocolate sauce.
Makes 6 servings.
*To make the simple syrup, combine equal parts water and sugar. Bring to a boil, stirring until the sugar melts. Remove from the heat. Cool and add the desired amount of kirsch.
Recipe and photograph provided courtesy of Wisconsin Milk Marketing Board, Inc.