Pears Poached in Zinfandel
with Ganache and Raspberry Mascarpone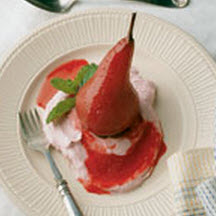 This dessert is a simple, yet elegant way to end a meal. Pears, poached in wine, are filled with a luscious chocolate ganache and served in a pool of raspberry and mascarpone sauce. Recipe by Chef Chef Daniel Strongin.
Recipe Ingredients:
Pears:
4 cups water
2 cups red Zinfandel
2 cups granulated sugar
Zest of 1 orange, blanched
6 firm pears with stems, peeled
Ganache:
1 cup heavy cream
8 ounces bittersweet chocolate, coarsely chopped
2 tablespoons unsalted butter
Sauce and Raspberry Wisconsin Mascarpone:
1 pint raspberries
1/2 cup granulated sugar
1 to 2 tablespoons lemon juice
1 to 2 tablespoons water
12 ounces Wisconsin Mascarpone cheese
Mint leaves, for garnish
Cooking Directions:
For Pears: In a large pan over medium heat, combine water, wine, sugar and orange zest. Bring to a boil. Reduce heat. Set pears in pan standing up. Poach pears until just tender. Cool in syrup. Core pears. Set aside.
For Ganache: In medium pan over medium heat, bring cream to a boil. Remove pan from heat immediately. Add chocolate. Soften several minutes. Stir until smooth. Stir in butter. When cooled, pipe ganache into pears. Set aside.
For Sauce and Raspberry Mascarpone: Purée raspberries in blender. Add sugar, lemon juice and water. Stir half the purée carefully into Mascarpone.
To serve, spoon generous amounts of Raspberry Mascarpone onto chilled dessert plates. Arrange pears on top of each portion of Raspberry Mascarpone. Garnish with remaining raspberry sauce and mint.
Makes 6 servings.
Recipe and photograph provided courtesy of Wisconsin Milk Marketing Board, Inc.