Roasted Stuffed Pears with Aged White Cheddar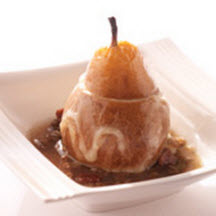 An elegant first or final course, black-pepper seasoned and roasted pears stuffed with chopped walnuts, golden raisins, dried cherries and aged white cheddar cheese. Recipe by chef Christopher Koetke.
Recipe Ingredients:
4 Bartlett pears
1/2 cup walnuts, chopped
1/4 cup golden raisins
1/4 cup raisins
1/4 cup dried tart cherries
Black pepper
1 1/2 cups apple cider
2 tablespoons butter
2 tablespoons brown sugar, packed
4 pieces Wisconsin Aged White Cheddar Cheese, cut in 2 x 2 x 1/4-inch thick cubes
1/4 cup Wisconsin Aged White Cheddar Cheese, in small dice
Cooking Directions:
Preheat oven to 350°F (175°C). Cut 1/4 inch off bottom of each pear so they stand upright. Using melon baller, scoop out center of each pear, including seeds and core to bottom of pear, leaving some flesh on peel.
In small bowl, combine walnuts, raisins and cherries. Season interior of each pear lightly with black pepper. Stuff pears with nut and dried fruit mixture. Pack pears firmly and reserve any mixture that does not fit inside the pears.
Place pears upright in 8x8x2-inch glass baking dish. Pour apple cider in bottom of the dish. Dot with butter and brown sugar. Add any leftover fruit mixture.
Bake for 1 1/4 hours or until pears are soft when pierced with paring knife, basting every 15 minutes with liquid in bottom of baking dish.
Remove pears from oven and slice top off each pear at point where the pear starts to taper. Place single cube of cheese on top of pear; replace top over cheese. Return to oven 5 minutes to melt cheese.
To serve, place one hot pear in each of 4 dessert bowls. Spoon baking juices and fruit mixture around pears. Sprinkle diced cheese in bowls.
Makes 4 servings.
Recipe and photograph provided courtesy of Wisconsin Milk Marketing Board, Inc.