Bison & Vegetable Kabobs with Couscous Salad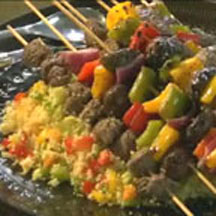 This recipe for bison and vegetable kabobs with couscous salad is a great way to bring big flavors to a healthy diet.
Recipe Ingredients:
1/2 cup and 1/4 cup, extra virgin olive oil
1/4 cup red wine vinegar
1 tablespoon granulated garlic
1 tablespoon cracked black pepper
1 tablespoon oregano
1 tablespoon basil
1 teaspoon sea salt
1 tablespoon thyme
1 (16-ounce) package baby bello mushrooms, washed and drained
1 red onion
1 red pepper, cut into 1 inch pieces
1 yellow pepper, cut into 1 inch pieces
1 green pepper, cut into 1 inch pieces
3 bison steaks, cut into 1 inch pieces
Skewers
1 1/2 cups water, boiling (salted if desired)
1 1/2 cups instant couscous
1 green onion, sliced
Roasted squash and tomatoes
1 orange
Cooking Directions:
To a measuring cup add a 1/2 cup of the extra virgin olive oil, red wine vinegar, granulated garlic, cracked black pepper, oregano, basil, sea salt,
and thyme. Whisk to combine all the ingredients.
Now pour half of this marinade into a bowl with the baby bello mushrooms, the red onion and the red, yellow and green peppers. Toss to coat. Save the tops and the bottoms of the peppers to add to the couscous salad later.
To a medium bowl with the bison, add the other half of the marinade and toss.
Now skewer the marinated vegetables and bison. Keep them separate because the bison will cook a lot faster than the vegetables.
To a pot of 1 1/2 cups boiling water, add the couscous and cover, turning the heat off.
Cook the vegetable skewers on the grill for 10 to 12 minutes, turning frequently, and then cook the bison skewers for about 3 to 4 minutes per side.
Pour the cooked couscous into a large bowl and add the chopped reserved peppers, green onion, squash and tomatoes, 1/4 cup of extra virgin olive oil and juice from 1/2 of the orange. Toss to combine.
Serve with the skewers placed on top of the couscous salad.
Makes 6 to 8 servings.
Recipe provided courtesy of HolidayKitchen.tv. Photograph property of CooksRecipes.com.