Bison Steak Frites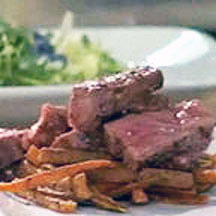 Here's a healthy twist on a bistro classic—Steak Frites. Bison steak is substituted for the beef steak, and the fries for baked sweet potatoes, served with a frisse salad garnished with blueberries.
Recipe Ingredients:
1 large sweet potato, sliced into 1/4 inch sticks
1/4 teaspoon ground ginger
1/4 teaspoon ground corriander
1/4 teaspoon ground cinnamon
1/4 teaspoon ground cumin
1/4 teaspoon ground black pepper
1/4 teaspoon salt
A pinch of cloves
1/4 teaspoon ground cardamom
1/4 cup of extra virgin olive oil.
2 Bison ribeye steaks
Frisse Salad:
Watercress
2 tablepsoons cider vinegar
2 tablepsoons apple cider
1 1/2 tablepsoons brown sugar
1/2 teaspoon celery seed
1 tablespoon granulated garlic
1/4 cup safflower oil
Blueberries
Cooking Directions:
In a large bowl combine the sweet potato, ginger, corriander, cinnamon, cumin, black pepper, salt, cloves, cardamom, and extra virgin olive oil. Then toss to evenly coat the fries.
Spread them out evenly on a baking sheet and place in a preheated 425°F (220°C) oven. They should take about 30 to 35 minutes to cook.
Brush the ribeye steaks with extra virgin olive oil so they don't stick to the grill and season with cracked black pepper and salt--make sure you get both sides.
Place the steaks on a preheated grill pan and cook for a total of 7 to 8 minutes, flipping once.
While the steaks rest, assemble the frisse and watercress salad. Add the washed greens to a large bowl and combine with the cider vinegar, apple cider, brown sugar, celery seed, granulated garlic and safflower oil. Toss then season with salt and pepper.
Plate the salad and garnish with fresh blueberries.
When the potatoes are done, slice the steak. Remember when slicing the steak to cut against the grain--this ensures that the meat will stay tender and juicy.
Add the sliced steak on top of the sweet potato and plate the salad.
Makes 2 servings.
Recipe provided courtesy of HolidayKitchen.tv. Photograph property of CooksRecipes.com.