Honey-Glazed Game Hen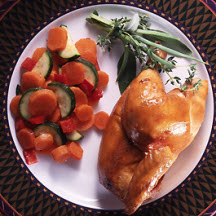 The glaze, made with honey, soy sauce, lemon juice, dry mustard and ground ginger, would be excellent with roast chicken or turkey, too.
Recipe Ingredients:
1/4 cup honey
2 tablespoons soy sauce
2 tablespoons lemon juice
1/2 teaspoon dry mustard
1/2 teaspoon ground ginger
1 (1 1/2 to 1 3/4-pound) game hen, thawed
1/4 teaspoon salt
1/8 teaspoon ground black pepper
1/2 onion, peeled and quartered
Cooking Directions:
Combine honey, soy sauce, lemon juice, dry mustard and ginger in 1-cup microwave-safe measure or bowl; mix well.
Microwave at HIGH 1 to 1 1/2 minutes or until heated; stir to dissolve honey.
Rinse game hen and pat dry. Sprinkle cavity with salt and pepper.
Dip onion in honey mixture and place 2 quarters in game hen.
Tie legs together with heavy string. Place game hen, breast side down, in microwave-safe roasting dish. Brush generously with honey mixture.
Microwave at HIGH for 16 to 20 minutes or until juices run clean and meat near bone is no longer pink; rotate rack one-quarter turn every 5 minutes. Turn hen breast side up halfway through cooking time and glaze with remaining sauce. Remove onion from cavity and cut game hen in half.
If desired, heat drippings and onion 1 1/2 to 2 minutes in microwave-safe measure; strain and serve with game hen.
Makes 2 servings.
Nutritional Information Per Serving (1/2 of recipe): Calories: 363 Calories from Fat: 14% Carbohydrates: 41.2 g Cholesterol: 119 mg Dietary Fiber: 0.74 g Fat Total: 5.5 g Protein: 38.2 g Sodium: 1434 mg.
Note: Honey should not be fed to infants under one year of age. Honey is a safe and wholesome food for children and adults.
Recipe and photograph courtesy of the National Honey Board.