Athenian Meatloaf with Cucumber-Yogurt Sauce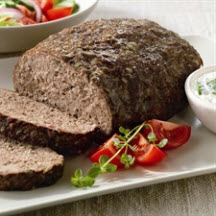 A Greek seasoning blend easily flavors this moist meatloaf served with a refreshing cucumber yogurt sauce.
This recipe is an excellent source of protein, niacin, vitamin B12, selenium and zinc; and a good source of vitamin B6, iron and choline.
Recipe Ingredients:
Meatloaf:
2 pounds ground beef (96% lean)
1 cup soft bread crumbs
3/4 cup finely chopped onion
1/2 cup 2% milk
1 large egg
1 tablespoon plus 1 1/2 teaspoons dried Greek seasoning - divided use
1/2 teaspoon salt
Cucumber-Yogurt Sauce:
1 cup low-fat or regular Greek-style yogurt
1/2 cup diced cucumber
Salt to taste
Cooking Directions:
Preheat oven to 350°F (175°C).
For Meatloaf: Combine ground beef, bread crumbs, onion, milk, egg, 1 tablespoon Greek seasoning and salt in large bowl, mixing lightly but thoroughly.
Shape beef mixture into 10x4-inch loaf on rack in broiler pan.
Bake in 350°F (175°C) oven 1 1/4 to 1 1/2 hours, until instant-read thermometer inserted into center registers 160°F (71.1°C). Let stand 10 minutes; cut into slices. Serve with cucumber-yogurt sauce.
For Cucumber-Yogurt Sauce: Combine yogurt, cucumber and remaining 1 1/2 teaspoons Greek seasoning in medium bowl. Season with salt, as desired. Set aside.
Makes 8 servings.
Test Kitchen Tips:
Cooking times are for fresh or thoroughly thawed ground beef.
Ground beef should be cooked to an internal temperature of 160°F (71.1°C).
Color is not a reliable indicator of ground beef doneness.
Nutritional Information Per Serving (1/8 of recipe using 96% lean ground beef): 187 calories; 6 g fat (3 g saturated fat; 0 g monounsaturated fat); 95 mg cholesterol; 313 mg sodium; 6 g carbohydrate; 0.4 g fiber; 26 g protein; 5.5 mg niacin; 0.3 mg vitamin B6; 2.3 mcg vitamin B12; 3.0 mg iron; 20.9 mcg selenium; 5.5 mg zinc; 100.4 mg choline.
Recipe and photograph courtesy of The Beef Checkoff.