Gallo Pinto con Platanos Fritos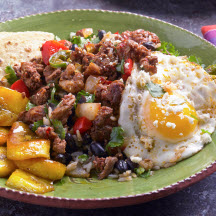 Gallo pinto translates as 'speckled hen', and this colorful dish from Costa Rica is indeed a feast for the eyes with chorizo, red pepper, beans, rice, and cilantro. Accompanied with fried ripe plantains and corn tortillas, this is a complete meal. Top each portion with a fried egg, if desired, and garnish with a shower of grated Cotija cheese and chopped cilantro.
Recipe Ingredients:
3/4 pound fresh chorizo
1/2 cup finely chopped onion
1/2 cup finely chopped red bell pepper
1 tablespoon minced garlic
1 jalapeño chile, seeded and minced
1 cup chopped cilantro
1 tablespoon Worcestershire sauce
1 (15-ounce) can black beans, drained and rinsed
2 cups cooked white rice
1/4 cup vegetable oil
3 ripe plantains, peeled and sliced into 1/2-inch rounds
1/3 cup brown sugar, firmly packed
1/3 cup water
Soft corn tortillas, warmed
Cooking Directions:
In a skillet cook the chorizo over medium-high heat, stirring and breaking up, until fat is rendered and sausage is no longer pink; add onion, bell pepper, garlic, and jalapeño; cook over low heat, stirring, until vegetables are soft. Stir in cilantro, Worcestershire, beans, rice. Cook to heat mixture through, stirring gently, taste and adjust salt if necessary. Transfer to serving platter. Surround with fried plantains and serve with tortillas.
In skillet over medium-high heat, fry the plantains for 3 to 4 minutes on each side, until they are golden; drain on paper towels.
In small saucepan boil brown sugar and water until sugar is dissolved and mixture is syrupy.
Pour off oil from skillet, return plantains to skillet and add syrup; cook the plantain mixture over medium heat, stirring, for 1 to 2 minutes, until plantains are coated well. Cover and set aside, keep warm or rewarm gently.
Makes 4 servings.
Serving Suggestion: If desired, top each serving with a fried egg and garnish with cilantro and grated Cotija cheese.
Tip: The plantains and syrup can be made ahead and set on the back of the stove; when gallo pinto is ready, simply gently reheat the plantains in the syrup.
Recipe and photograph provided courtesy of Pork, Be Inspired®.