Low Carb Eggplant Lasagna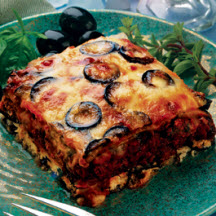 Recipe courtesy of California Ripe Olives.
Recipe Ingredients:
1/4 cup olive oil
1 pound ground beef chuck
1 teaspoon kosher salt
1 1/2 cups low carb tomato sauce (substitute tomato sauce without sugar)
1/4 cup chopped fresh basil
1 (15-ounce) container ricotta cheese
1 1/2 cups sliced olives
1 large egg, beaten
1 1/2 teaspoons chopped fresh oregano
1 pound eggplant, sliced lengthwise 1/4-inch thick and salted
1 1/2 cups shredded mozzarella cheese
1 tablespoon freshly grated Parmesan cheese
Cooking Directions:
Heat 1 tablespoon of olive oil in a large sauté pan over medium-high heat. Add ground beef, season with 1/4 teaspoon salt and cook for 5 to 6 minutes, stirring occasionally until browned and cooked through. Mix in 1 1/4 cup tomato sauce and basil and set aside.
In a large mixing bowl, combine ricotta, 1 cup olives, egg, oregano and remaining salt. Set aside.
Heat remaining oil, approximately 1 tablespoon at a time, in a clean sauté pan over medium high heat and cook eggplant, in batches, until browned and softened for 2 minutes on each side.
Place one layer of eggplant (approximately 3 slices) in a 11x7-inch baking dish. Top with ricotta cheese mixture and 1/2 cup of mozzarella cheese. Place another layer of eggplant on top. Pour meat sauce over eggplant and sprinkle with 1/2 cup of mozzarella. Top with remaining eggplant and drizzle with remaining tomato sauce. Cover with remaining olives, mozzarella cheese and freshly grated Parmesan cheese.
Bake, covered, in a 425°F (220°C) oven for 30 minutes.
Uncover and continue cooking for 15 minutes.
Remove from oven and allow to cool for 5 to 10 minutes, then cut into serving pieces.
Makes 6 servings.
Recipe and photograph courtesy of California Ripe Olives.